by Ryan Jordan, Silver Phoenix 500: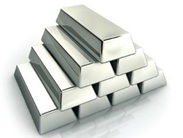 Watching the price action of silver these past few weeks reminds me just how long the long term is. Identifying the fundamentals for an asset to move higher is one thing—it is something quite different to actually be able to "sit tight and be right," as the great Jesse Livermore reputedly said, to ride a bull market to its top. Bull markets do their best to throw followers off the market's track to higher prices. Years can go by where price does nothing and exhaustion or indifference among the former bulls starts to set in. I do believe that is where we are right now in the silver market, as I have repeatedly made comparisons to the 1968 to 1971 correction. A comparison—I might add—that everyone else covering this space seems to have forgotten. On the way from under one dollar to nearly fifty, silver took three years to be cut in half, from roughly 2.60 to under 1.30 before resuming what would go down in the history books as one of the great bull markets in history. I can cite plenty of other examples of commodities (it always seems to be the commodities) going practically nowhere for years before exploding higher 5, 10, or 15 times in short order. As in life, all we have in investing are opportunities (especially with cash yielding nothing). If you are someone involved in the silver space, I hope you are able to hang on to your investments, even if price goes nowhere this year. Try to remember the long term.
Read More @ SilverPhoenix500.com
hat tip/GoldSilver
Help us spread the ANTIDOTE to corporate propaganda.

Please follow SGT Report on Twitter & help share the message.