How the prospect of retirement went from a realistic goal to an outrageous dream for most American families.
from MyBudget360.com: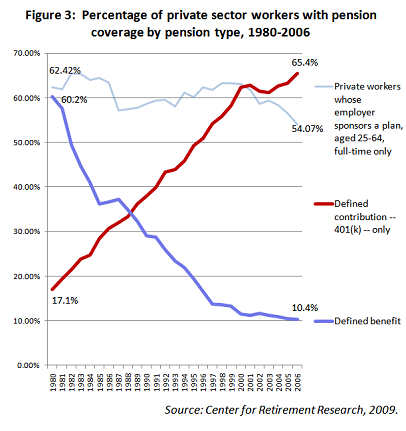 Retirement was presented to many Americans as some kind of middle class rite of passage. It was odd to see so many fall under the spell of easy riches and generous retirement math presented to the public from the Wall Street financing machine. Many saw retirement as a distant object so far into the future but the future is now here. The middle class is shrinking and with it the dreams of retirement. I suppose it is important to define retirement before we go on since this is a relatively new concept as far as history is concerned. In the past, you worked until you died. Short of royalty, this was the typical life path. Retirement, at least how it was presented to modern American workers, meant a time in life when financial worries were gone thanks to a lifetime of work. In more practical terms this meant a combination of a pension, 401k/403b, and Social Security. Social Security was never intended to be the main retirement income stream for Americans but it is. Pensions are now nearly extinct in this low wage economic system. Many Americans in the early 1980s were presented with the Wall Street vision of retirement where many simply set aside money in 401ks and IRAs generating untold wealth to the financial kings. Wall Street was supposed to exercise some fiduciary duty to the American people but the opposite occurred. A massive bait and switch. Retirement is going to take on an entirely new definition given the current state of wealth in America.
Help us spread the ANTIDOTE to corporate propaganda.

Please follow SGT Report on Twitter & help share the message.