from End of the American Dream: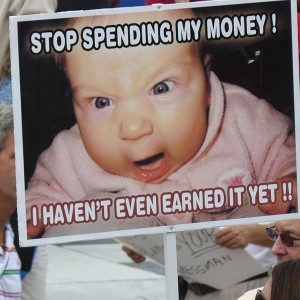 The U.S. national debt is 36 times larger than it was just 40 years ago. That is not a misprint. That is actually the truth. We are literally destroying the future of America, but most Americans don't really seem to care. In fact, the most hated politicians in America are the Tea Party politicians that recently tried to take a stand against the out of control borrowing that the federal government has been doing. Pew Research has just released a new survey that shows that the popularity of the Tea Party is at an all-time low. So while many Americans may say that they theoretically want something to be done about the national debt, when push comes to shove they don't actually mean that. You see, the reality of the matter is that about 128 million Americans get money from the federal government every month. That accounts for the majority of all government spending. Anyone who tries to take those goodies away is going to be hated. So we are going to continue down this crazy path until the system completely crashes someday.
Read More @ EndoftheAmericanDream.com
Help us spread the ANTIDOTE to corporate propaganda.

Please follow SGT Report on Twitter & help share the message.