The former NSA director is held up by the Face the Nation host as an objective authority when he is everything but that
by Glenn Greenwald, The Guardian: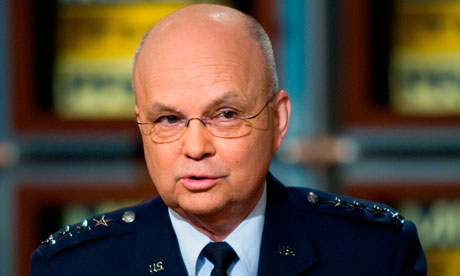 In 2006, the New York Times won the Pulitzer Prize for having revealed that the NSA was eavesdropping on Americans without warrants. The reason that was a scandal was because it was illegal under a 30-year-old law that made it a felony, punishable by up to 5 years in prison for each offense, to eavesdrop on Americans without those warrants. Although both the Bush and Obama DOJs ultimately prevented final adjudication by raising claims of secrecy and standing, and the "Look Forward, Not Backward (for powerful elites)" Obama DOJ refused to prosecute the responsible officials, all three federal judges to rule on the substance found that domestic spying to be unconstitutional and in violation of the statute.
The person who secretly implemented that illegal domestic spying program was retired Gen. Michael Hayden, then Bush's NSA director. That's the very same Michael Hayden who is now frequently presented by US television outlets as the authority and expert on the current NSA controversy – all without ever mentioning the central role he played in overseeing that illegal warrantless eavesdropping program.
Help us spread the ANTIDOTE to corporate propaganda.

Please follow SGT Report on Twitter & help share the message.