How QE is ineffective with helping the broader economy in favor of boosting support for too big to fail banks.
from MyBudget360.com: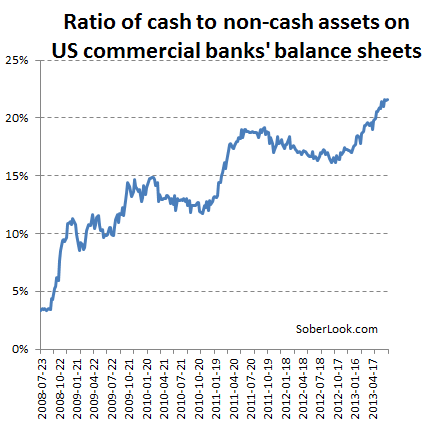 Quantitative Easing outside of economic and financial circles is a mystery to most of the public. In fact, start talking about the Federal Reserve and eyes will glaze over as if you were speaking in tongues. The financial sector counts on the public being ignorant of such things. That is why the failure of QE is such an important topic to discuss. The consequences brought on by QE have resulted in massive distortions in the market. First, we have incredibly high speculation once again from the financial sector (it never really went away and was the fodder for our last financial implosion). QE simply provided an easy mechanism for cheaper funds via interest rate distortions. The second key point is that banks have increased their leverage via easy debt and are crowding out smaller players in the market. A perfect example is the flood of big money investors crowding into residential real estate. QE has ultimately turned out to be a very selective bailout of the too big to fail banking sector.
How QE failed: The main reason for QE was for banks to push out newly added funds to the public (that was the premise at least). Instead, banks are hoarding this easy money and speculating:
Help us spread the ANTIDOTE to corporate propaganda.

Please follow SGT Report on Twitter & help share the message.