Total debt owed now approaches $60 trillion while Fed wrestles with interest rate confidence game
from MyBudget360.com: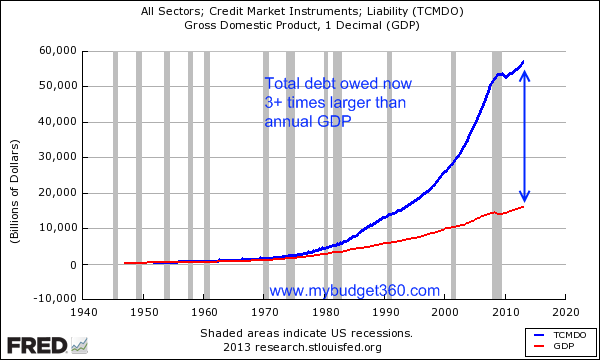 Some people may be oblivious to the recent historical interest rate moves being experienced in the bond markets. Many on Wall Street probably assumed that the Fed had an unlimited ability to pull the wool over the eyes of the American public. Yet the reaction with interest rates concludes an interesting chapter in American central banking policy. The Fed can no longer preach for a lower interest rate. After the brutal reaction, the Fed has softened its rhetoric on the "taper" of quantitative easing even though there is really no evidence showing the Fed is tapering anything at all. The quick reversal in interest rates signifies a strong reaction by the market. It is fascinating to see how much outside money is now flowing back into the US to purchase stocks, real estate, and other real tangible goods. In other words, global investors are now demanding payment for all that cheap credit lent out. The era of cheap debt is now reversing and the piper is demanding to be paid.
Help us spread the ANTIDOTE to corporate propaganda.

Please follow SGT Report on Twitter & help share the message.