Unbridled debt expansion at the nucleus of rising debt inequality in the United States. US total credit market debt now over 3 times larger than annual GDP.
from MyBudget360.com: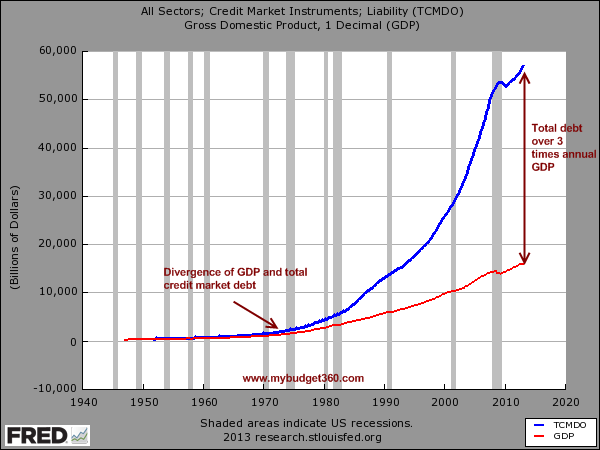 There is one charge that can never be leveled against Americans and that would be that we somehow have an aversion to debt. To the contrary, our love with debt has blossomed into a full blow addiction. People confuse access to debt with actual real wealth. However as the foreclosure crisis has taught millions, you really don't own something fully until the debt is paid off. The problem with this addiction is that we are now going deeper and deeper into a debt filled spiral. The Federal Reserve has positioned us into a market where debt is necessary, but this debt has to come at an artificially low rate. Any hint that rates will rise causes the market to quiver like a teenager at prom. This is troubling because it is a sign of addiction and probably, a belief that there is no longer an out clause. Anyone that has seen the show Intervention realizes how difficult it is to combat a serious addiction. First, there needs to be an acknowledgment of a problem. We are still steps away from recognizing this as an issue.
Help us spread the ANTIDOTE to corporate propaganda.

Please follow SGT Report on Twitter & help share the message.