Yes, the economy is improving, but too many Americans are being left behind, while the rich keep getting richer
by Bernie Sanders, Guadian: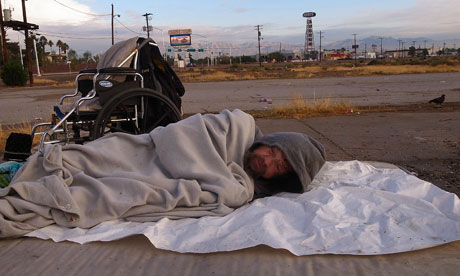 The front pages of American newspapers are filled with stories about how the US economy is recovering. There is some truth to that. Since President George W Bush left office in 2009, significant progress has been made in moving our economy out of the abyss of the worst economic downturn since the Great Depression of the 1930s. But in the midst of this slow recovery, we must not accept a "new normal".
We must not be content with an economic reality in which the middle class of this country continues to disappear, poverty is near an all-time high and the gap between the very rich and everyone else grows wider and wider.
The good news is that instead of losing more than 700,000 jobs a month as we were five years ago, we've been gaining almost 200,000 jobs a month since January. The bad news is that, in addition to those job numbers being much too low, nearly 60% of the jobs gained since the "recovery" are low-wage jobs that pay less than $14 an hour, while most of the jobs lost during the recession were decent-paying middle-class jobs.
Help us spread the ANTIDOTE to corporate propaganda.

Please follow SGT Report on Twitter & help share the message.