by Rick Ackerman, Rick Ackerman.com: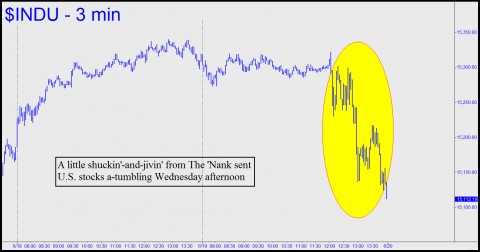 We could not have improved on Bernanke's speech yesterday, although investors appear to have found it more than a little unsettling. Don't worry, they'll soon be back in droves, snapping up stocks as always, without so much as a moment's pause as to why. Meanwhile, everyone knew beforehand that even the vaguest hint about cutting back on the Fed's monthly purchases of Treasury debt and mortgage securities would be enough to send global markets spasming. Look at the damage that's been done already. In the case of so-called emerging markets, they have gotten crushed in recent weeks as hot money has fled for safer venues. And China's financial system has begun to totter on fears that domestic credit speculation will not easily abide even a slight U.S. shift from easing.
Under the circumstances, Bernanke talked his book about as well as he might have, suggesting that the U.S. economic recovery is proceeding well enough that it may be possible to end QE sometime next year. Yeah, sure.
Help us spread the ANTIDOTE to corporate propaganda.

Please follow SGT Report on Twitter & help share the message.