How punishing savers is encouraging a low savings rate and high levels of debt.
from MyBudget360.com: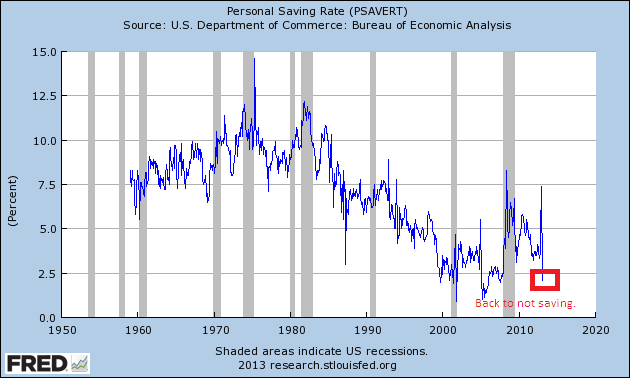 Would you be motivated to save money if your rate of return was 0 percent? That is the situation facing many Americans looking to put their hard earned dollars into the current banking system. Underlying the zero percent stated rate however is the reality that the real rate is closer to negative three percent given the rate of inflation. To keep it short and sweet, you will lose money simply by putting it into a regular savings account or even a certificate of deposit (CD). The Federal Reserve carries a lot of power in our financial system. The mere mention of shifting course sent the markets into a financial panic. The problem of course is the Fed has conditioned a public to very low rates and risk is being mispriced. These low rates in classical conditioning fashion have created a market addicted to lower and lower rates. The current system punishes savers and the setup has worked when we look at data to discourage saving.
Help us spread the ANTIDOTE to corporate propaganda.

Please follow SGT Report on Twitter & help share the message.