Idolizing the gods of consumption and stoking the fires of debt based speculation. Has the Fed crossed the line of no return?
from MyBudget360.com: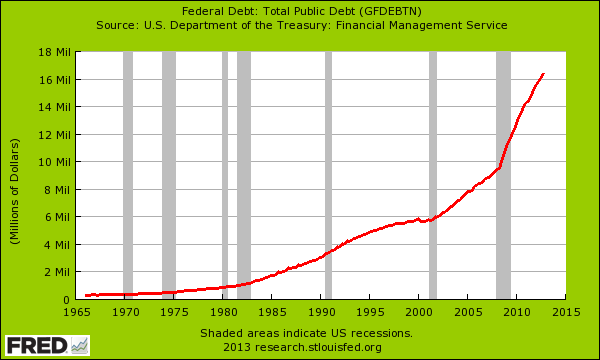 The Federal Reserve has created the perfect environment where savers are chastised and debt based spending is glorified. Our economic engine is powered by the fires of consumption. This has been true for many decades. What is different about our current space in time is the punishment savers are taking. Many banks through savings or even CDs offer rates that are hovering around the zero percent mark. Add in inflation of about three percent and you are actually losing money. The system is designed to punish any sort of conservative saving. The stock market continues to move up but it clear that most Americans simply do not have the funds to participate in this party. The current financial environment is really a perfect brew of punishing savers and encouraging debt based consumption. Will the elixir work this time around?
Spending into prosperity
The US public debt is now above $16.73 trillion and continues to grow:
Help us spread the ANTIDOTE to corporate propaganda.

Please follow SGT Report on Twitter & help share the message.