by Rick Ackerman, Rick Ackerman.com: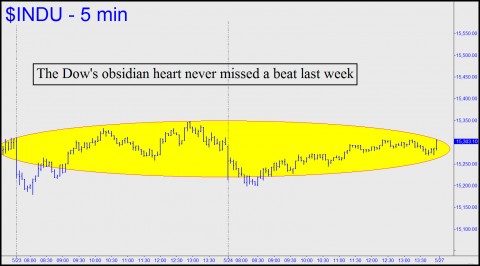 U.S. stocks barely flinched last week as shares trading elsewhere in the world got shellacked. The global selloff began with a 7% plunge in the Nikkei early Thursday. Asian markets dove in sympathy, then Europe followed suit with a 2.1% drop in the FTSE 100. But when it came time for Wall Street to show a little fear, bears were nowhere to be found. The Dow closed off just 12 points, demonstrating yet again the old adage that if you can keep a cool head while everyone around you is panicking, then perhaps you don't understand the situation.
Then again, why should U.S. investors even care about Europe and Asia? Home prices are soaring, not only stimulating the all-important "wealth effect," but also creating new collateral that presumably will help catalyze the next consumer-credit binge. That's assuming one occurs. For it could happen only after Americans have dealt with a trillion dollar mountain of college loans, staggering increases in the cost of health care, stagnant incomes; and, in ultra-blue states like California, Minnesota, Massachusetts and New Jersey, tax increases implemented by lawmakers who evidently view the fraudulent economic recovery as a great opportunity to enlarge the scope of government.
Help us spread the ANTIDOTE to corporate propaganda.

Please follow SGT Report on Twitter & help share the message.