Modern banking has replaced real economic prosperity with massive levels of debt. Housing affordability reaches multi-decade highs while household incomes retreat to 1990s levels.
from MyBudget360.com: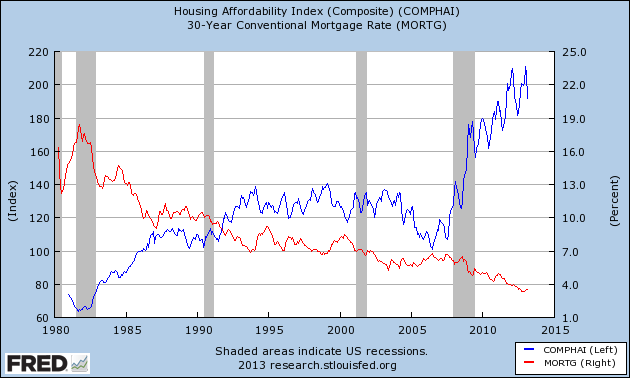 One of the biggest headlines right now is how the housing market is pulling the entire market up. Housing prices are soaring while the stock market is making record highs. Yet a large portion of the housing run-up is being caused by easy money that has been created by the Federal Reserve. Banks are out-bidding regular home buyers so it is dubious how much of this jump in prices is really helping households. Affordability is up because mortgage rates are incredibly and artificially low. Another bubble is brewing in this economic stew yet this time, it doesn't seem like Americans are feeling all that richer since most of the new access to debt is being given to large banks that are outbidding regular home buyers. In some markets, investors are purchasing 50 percent of all homes. So what use is a low interest rate if investors are going to outbid you? The game is the same this time. Housing is the juice machine once again. Incomes adjusting for inflation are back to levels last seen in 1995 so the easiest way to make Americans feel wealthier is by increasing their access to debt.
Help us spread the ANTIDOTE to corporate propaganda.

Please follow SGT Report on Twitter & help share the message.