by Rick Ackerman, Rick Ackerman.com: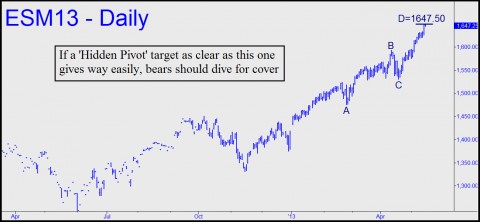 The 1476.25 rally target shown in the chart below looked until recently like a good bet to contain the bullish stampede, at least for a while. As of early Wednesday morning, however, it seemed to be giving way. Even though it has been exceeded so far by just 2.50 points, that's enough to imply that the resistance has been fatally compromised, given the clarity of the technical pattern that produced it. If this "Hidden Pivot" is in fact easily brushed aside, it would be yet one more casualty of a bull market that in its fifth year is growing more relentless by the day.
And freakish. Yesterday's rally marked the 18th straight week that the Dow has closed higher on a Tuesday. Market watchers have been trying to make sense of this, since nothing remotely like it has ever happened before. But they might as well try to explain Stonehenge. The mere fact that betting that stocks will finish higher on a Tuesday has become all but a sure thing is reason enough for it not to happen again. That's because "knowing" what the Dow will do on a given Tuesday would make it possible for "everyone" to make money on the same side of the market. That cannot be, of course. And yet, who would dare fade next Tuesday's action, assuming it's a rally?
Help us spread the ANTIDOTE to corporate propaganda.

Please follow SGT Report on Twitter & help share the message.