Unit labor costs in manufacturing above US labor costs and household debt-to-income at 160 percent.
from MyBudget360.com: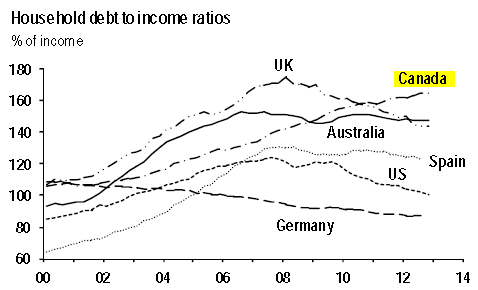 Our neighbors to the north in Canada are going to face a serious deleveraging shortly. This isn't hyperbole or some off the wall call but based on evidence of what happens when economies get into too much back breaking debt. If the largest trading blocs, the US and Europe had to have their day of reckoning how is it that Canada will be immune from the same economic forces of debt? Bubbles do not pop in perfect harmony. They pop in a disorderly and loud fashion and momentum picks up once the unraveling begins. Canada has one of the biggest ongoing housing bubbles and contrary to the rhetoric we see, they have households deeply in debt. In other words, they are leveraging to the hilt just to keep this charade going. Yet this can only go on for so far. Obviously bubbles can last for a very long-time (i.e., US housing from 1997 to 2007) and can surprise many people. Let us take a look at a couple of reasons why Canada is going to face a heavy deleveraging.
Help us spread the ANTIDOTE to corporate propaganda.

Please follow SGT Report on Twitter & help share the message.