If bubbles eventually revert to their starting level, Phase 3–capitulation and a return to pre-bubble prices–still lies ahead for the housing market.
by Charles Hugh Smith, Of Two Minds: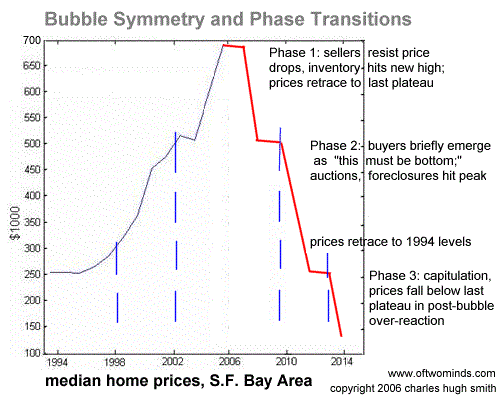 Way back in 2006 at the height of the housing bubble, I prepared this chart proposing the housing bubble might exhibit symmetry, i.e. the decline would mirror the rise. I also proposed that the decline would be characterized by phase shifts that corresponded to the decay of whatever reason was being given for the "recovery" in housing, for example, "this must be the bottom."
Hmm, what would have happened if the Federal Reserve hadn't dumped trillions of dollars into the mortgage market, and the Federal housing agencies hadn't subsidized mortgages and housing with 3% down payments and tax credits?
Perhaps all the trillions of dollars of intervention has accomplished is extend Phase 2. Central bank and state manipulation distorted the symmetry of housing's decline, but did they stave off Phase 3 permanently?
Help us spread the ANTIDOTE to corporate propaganda.

Please follow SGT Report on Twitter & help share the message.