by Kurt Nimmo, InfoWars: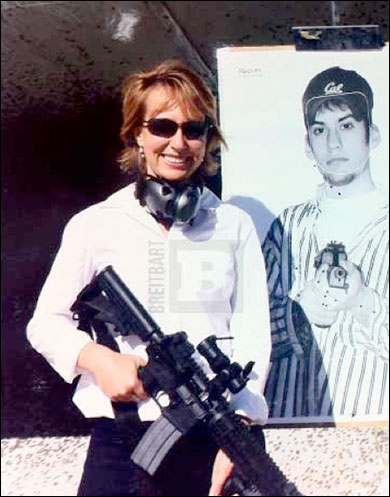 Earlier this week, a Tucson, Arizona, radio talk show host posted a photo of former Congressman Gabby Giffords posing with the dreaded AR-15 semiautomatic rifle.
The photo was taken in October, 2010, prior to Giffords suffering a near fatal gun wound to the head during a political event in January, 2011.
On Thursday, Breitbart News confirmed the photo is real through Arizona law enforcement. The source requested anonymity and said the photo was taken for campaign purposes.
Giffords has admitted the photograph is authentic.
"We were told she wanted to toughen her image," the source told Breitbart News. "She asked to come out and she wanted to shoot a rifle. She had one of our guys out there to show her how to shoot an AR-15."