This piece has been contributed exclusively for reader's of SGTreport by our friend Mark (pseudonym below), a firearms industry executive & part-time police officer. If you missed my in-depth interview with Mark in which we talk about the Second Amendment, Liberty and the UN gun ban treaty, please give it a listen, here. ~ SGT
by Mark S. Mann,
For as long as I can remember, people have always talked about what could happen, or what would happen if legislation were passed leading to confiscation of legally owned firearms in the United States. When this topic is discussed, people tend to get very emotional, and justifiably so. However, most people fail to understand the logistics that would be required for mass gun confiscation to actually take place. The common theme when people discuss this possibility is that law enforcement, federal agents, US Military, or foreign troops will show up at your door step to confiscate your firearms. Although I am not saying this could never happen, I am saying that the likely hood of door to door confiscation is highly unlikely.
Before you tell me I am wrong, and you start quoting language in the proposed UN Small Arms Treaty or the Department of State Publication 7277, first let's take a look at some very common and easily verifiable facts and data:
1.) As of 2010 the number of individual households in the United Sates is about 132,000,000 according to the US Census Bureau.
2.) Approximately (1) in every (2) households in the USA have firearms inside of it. This equates to about 50% of all households, which is a statistic commonly used and widely accepted by BOTH pro-gun and anti-gun organizations. Do the simple math, and we can come up with a figure that about 66,000,000 American homes have firearms.
3.) According to data provided by the FBI in 2009, approximately 165,000 SWAT type raids were conducted in the USA for that year. This includes raids conducted by Local, State, and Federal police agencies. This includes everything from the FBI regional SWAT teams, to your local "Anytown, USA" PD SWAT team suiting up for whatever reason a SWAT team would be deployed. The size of the team is irrelevant, but most typical teams have between 8-40 members. What must be considered is that in many larger cities of 150,000 people or more, SWAT teams can do up to 3-4 raids per day, which also contributes to the annual total. To say some teams are busy is an understatement.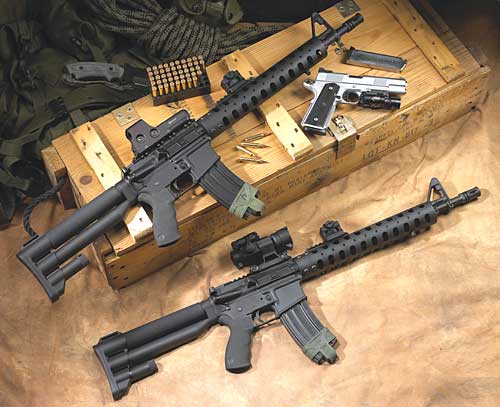 Even though we can estimate that there are 66,000,000 homes with guns inside them, this number is probably a bit unrealistic in terms of how many homes have firearms that would be on the anti-gun radar for confiscation. If you are one of those people that believe the government wants to confiscate your single shot .22 rifles or your side by side 20 gauge or your lever action, or bolt action deer rifles, stop reading this now. That will never happen, and I am not going to waste a single second of time dealing with that fantasy. If that did happen, there would be a civil war in this country. During a civil war, the possibility of someone coming to your door to take your guns would not be your biggest problem at that point. Let's discuss a more probable scenario:
The "powers that be", for lack of a better term, are more interested in limiting a civilian population's ability to resist control. That ability comes from civilian ownership of one type class of firearm: Box magazine feed, semi-automatic rifles… what the uninformed call "Assault Weapons".
Firearms industry data shows that about 30 million AR-15 type rifles have been produced in the USA since the early 1980's. I am giving this figure because the AR-15 is probably the most widely owned "assault rifle" in the USA, and it would be a small miracle to tabulate the amount of AK-47, FN-FAL , SIG, H&K, or whatever fill in the blank type of "assault rifle" produced or imported into the USA in the last 30 years. So let's just say for the purpose of this discussion that there are at least 30,000,000 homes in the USA that have at least one "assault type rifle" inside. That is roughly (1) home in every (4) across the USA; basically 25% of all households have at least one "assault rifle" inside. I think this is a very reasonable estimate in terms of the data points listed above.
Approximately 30,000,000 homes with assault rifles / Divided by 165,000 Police SWAT Raids Per Year = 181 Years to attempt door to door confiscation with existing law enforcement resources.
For those of you who are thinking that this is a bogus number because the government will use your average, police patrolman instead of police SWAT, or the US Military, or Foreign Military troops to accomplish this task, let's look at some more numbers:
If you increase the amount of possible door to door raids by 10 times to 1.6 million per year, this means that it would still take you 18.75 years to accomplish this task.
If you increase the amount of possible door to door raids by 20 times to 3.2 million per year, that means that it would still take you almost 9.5 years to accomplish this task.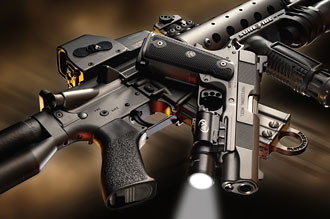 Do you see where I am going with this? How about the amount of personal it would take to carry out a mission like this? I don't even know where to begin trying to calculate exact figures, but it would take at least several million people to support the logistics of an operation of this type. Not everyone involved would be a "door kicker". In order to accomplish a massive operation like this, it would require support people with all types of skills, not just SWAT or military operators.
I am of the personal opinion that there will be police, federal agents, and US military personnel that will follow orders if they are told to go door to door to collect people's guns. However, I believe that the majority of these people would not follow such an order. I say this NOT because I feel that their beliefs in the Second Amendment are so strong, but because these people know that this would be
the proverbial "last straw" for many Americans, and a possible death sentence for those enforcing the agenda. There would be a big fight, and that's for sure! This brings me to my next point and a few reasonable questions:
If the common fantasy that people have about door to door gun confiscation became a reality, what would you expect the level of casualties to be for those people that would be undertaking such a mission? I think we can all agree that casualties and damage would be massive on both sides. If you were a SWAT Team, or military unit tasked with a mission like this, I guarantee that you would lose some of your people every day that you tried to carry out a mission of this type. If you lost people every day, how would you replace them at this rate? How could you maintain the resolve to continue a mission of this type? If you were someone at the command level of an operation of this type, how could you expect your men to morally carry out such a mission? What if they refused? At what point does a mission like this become unsustainable?
A door to door gun confiscation scenario would probably rip apart the integrity of state and local police forces nationwide, as well as destroy the integrity of the US Military. This is why some people think that foreign troops would be used to confiscate guns. Let's take a look at that scenario:
If it would take at minimum, at least several million people with special skills to attempt a viable door to door gun confiscation, this would mean that somehow, several million foreign troops would have to make their way onto US soil. Who would feed them, and how would they do so? Where would they be quartered? How would they operate in terms of a chain of command? James Wesley Rawles paints an interesting picture of how this might happen in his excellent book "Patriots". These are all interesting questions, but in my opinion the real questions are:
A.) "Do you think all of those Americans who owned the guns these troops were coming to confiscate would just sit back and wait for them to show up at their door steps?"… I do not.
B.) "Do you think that factions of American police force and US military that stayed loyal to their oaths would allow these foreign troops to carry out their mission completely unmolested?"…I do not.
C.) "Do you think that these foreign troops could continue to maintain the resolve to carry out such a mission indefinitely, regardless of the massive amount of casualties that they would sustain?" …I do not.
Now let's take a look at a more probable, more realistic scenario on how gun confiscation could be enacted:
In my opinion, the "powers that be" will not be coming door to door to take your guns. Instead, the majority of the American people will bring their guns to these "powers" on their own. Before you start quoting Charlton Heston on me, again, keep an open mind.
Without having to fire a single shot, the government can enact legislation to make ownership of various types of firearms illegal. They could simply pick a date in the future (for discussion use January 1 st) where ownership or possession of such weapons would be illegal under the new law after a certain date. The new law will make possession of the banned firearms a felony (one count for each weapon), punishable by a harsh federal prison sentence with no ability for plea bargaining, no consideration of a clean prior personal criminal history, no ability for parole, and no right to a fair trial, or due process. The government may also try to seize or confiscate your assets related to your illegal possession of the weapons. For example, if you are caught poaching game by federal or local police, they are legally allowed to confiscate your firearm, and the vehicle you drove in to get there. My point is that I am sure they may be able to use the same type of legal precedent to seize your personal residence, your vehicle, or your place of business, because you used them to house, or conceal ownership of banned weapons.
Another factor is your employment status. Many people in the work force need to maintain a clean criminal history to keep their jobs. If a gun ban was to be enacted, and you decided not to turn in your weapons, you risk becoming a felon, which could affect your livelihood, and your ability to feed and care for your family. Think about how many people that could be affected by something like this.
By making a criminal out of you, there would be significant risks for failure to comply turning in your weapons: Risk of a prison sentence, risk of losing your career or livelihood, and risk of losing your residence, or business, risk to your ability to keep your family together, or to support them. The system / government would be able to apply tremendous leverage to a large portion of the armed population to enforce their confiscation agenda. In my opinion, many people would be simply unwilling to risk giving up all those things mentioned above just to keep their guns. If you filled out a form 4473 in the last 20 years, don't kid yourself. They have a good idea of what firearms you own. Maybe not all of them, but they know which people own guns, and which do not.
One of the easiest ways to enact gun confiscation is for you to bring your guns to them. For many years, cities and municipalities around the USA have conducted gun "buy back" programs in order to "get guns off the street". What happens in these programs is that the local police set up a collection point somewhere in town, and they hand out credit card/ gift cards or cash in exchange for firearms with supposedly no questions being asked on where the guns come from.
In the event of a confiscation scenario, similar collection points could be set up nationwide to get people to surrender their guns. There are people who are reading this, who will never agree to something like this. However, consider this: If legislation goes into effect that prohibits ownership of various types of weapons, how many people will have to make a choice of possibly risking keeping their current way of life, or keeping their family together, versus refusing to turn in their weapons ? It's a lot to consider, but an agenda of this type would be much easier than going door to door and shooting it out with people every day.
Another scenario which would allow for gun confiscation would be an economic collapse or event of some type which would lead to declaration of Martial Law. Once Martial Law is in enacted, the control mechanism is already in place. If we did have an economic collapse, how long would it take before the masses were starving and had little or no food? 30, 60, 90, days? Bottom line, food shortages would be an issue. How about a "Food for Guns" program? Doubt it? Do some research and see how many times in history that food has been used as a weapon to subjugate a population to enforce an agenda. Think about how combat ineffective armed citizens will be once they are on the verge of starvation. Think some people may give up their guns at that point? I do.
I don't have a crystal ball, but I do have many years of firearms industry experience, law enforcement experience, and training experience to shape my opinions. If I were the bad guy, I would do everything possible to avoid a force on force confrontation with the heavily armed American public. I would do everything possible to win the fight, firing as few shots as possible, without damaging or destroying the infrastructure of the area I wanted to control. I would NOT do anything that would unite the people against a common enemy (the Government), like kicking in millions of Americans front doors, taking their guns, and shooting them if they resisted. In my opinion, it would be much easier to accomplish the agenda of gun confiscation without a unified opposition. The potential logistics and issues being discussed here are nowhere near exact figures by any means. They are solid, basic, rough estimates concerning logistical issues that would be required to undertake a door to door gun confiscation mission in the USA. If you disagree with what I am explaining, I understand, but you need to have more than an opinion to discuss this topic logically. The logistics have to logically support the mission goal and agenda.
If anyone can show how this could be accomplished logistically in a different manor, I am all ears. Again, I am not saying this can never happen. I am saying it would be extremely difficult to accomplish for many reasons, making the door to door confiscation scenario highly unlikely. The combined might of the US military cannot pacify Iraq or Afghanistan. If they can't do that, then how could any military or police force control millions of armed American Citizens? My only hope is that we never get to the point where this is no longer an academic discussion.
Stay Safe!
Mark S. Mann
Help us spread the ANTIDOTE to corporate propaganda.

Please follow SGT Report on Twitter & help share the message.