from Azizonomics: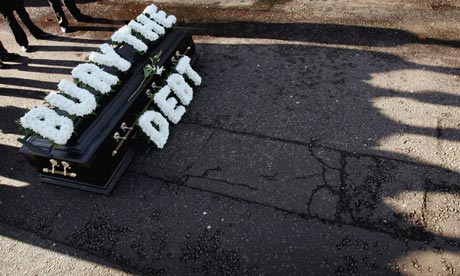 Bill Buckler critiques the notion of a debt jubilee:
The modern "debt jubilee" is characterised as "quantitative easing for the public". It has been boiled down to a procedure where the central bank does not create new money by buying the sovereign debt of the government. Instead, it takes an arbitrary number, writes a check for that number, and deposits it in the bank account of every individual in the nation. Debtors must use the newly-created money to pay down or pay off debt. Those who are not in debt can use it as a free windfall to spend or "invest" as they see fit.

The major selling feature of this "method" is that it provides the only sure means out of what is called the global "deleveraging trap". This is the trap which is said to have ensnared Japan more than two decades ago and which has now snapped shut on the whole world. And what is a "deleveraging trap"? It is simply the obligation assumed when one becomes a debtor. This is the necessity to repay the debt. There are only three ways in which a debt can be honestly repaid. It can be repaid with new wealth which the proceeds of the debt made it possible to create. It can be repaid by an excess of production over consumption on the part of the debtor. Or it can be repaid from already existing savings. If none of those methods are feasible, the debt cannot be repaid. It can be defaulted upon or the means of "payment" can be created out of thin air, but that does not "solve" the problem, it merely makes it worse.
Help us spread the ANTIDOTE to corporate propaganda.

Please follow SGT Report on Twitter & help share the message.