from End of the American Dream: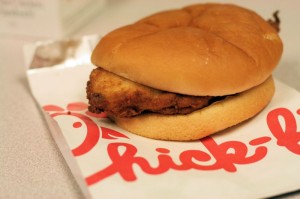 If you are an American, your freedom of speech is under attack. Over the past week, remarks made by Chick-fil-A president Dan Cathy defending traditional marriage have sparked controversy all over the nation. Many Americans have expressed support for his remarks and many have expressed disdain for his remarks. And all of that is fine, because in the United States people are supposed to be able to express their opinions. But in Chicago, Boston and other U.S. cities, politicians are actually promising to keep any more Chick-fil-A stores from opening because their CEO does not support gay marriage, and that crosses the line. When politicians threaten to ban a business from their cities just because the CEO does not hold the "politically correct" position on a social issue that is an attack on the freedom of speech of every American. You see, the truth is that the enforcers of political correctness in America are very "tolerant" except when somebody disagrees with them. The politically correct control freaks that are trying to ban Chick-fil-A from their cities would try to ban Chick-fil-A from opening any more restaurants in the entire country if they had the power to do so. The goal of these politically correct control freaks is to intimidate. They want to end debate on these social issues by shutting down the free speech of the opposition. In the end, if America continues to go down this path it will end up looking just like many of the other totalitarian regimes throughout history where free speech has been banned.
Read More @ EndoftheAmericanDream.com
Help us spread the ANTIDOTE to corporate propaganda.

Please follow SGT Report on Twitter & help share the message.