by Rick Ackerman, Rick Ackerman.com: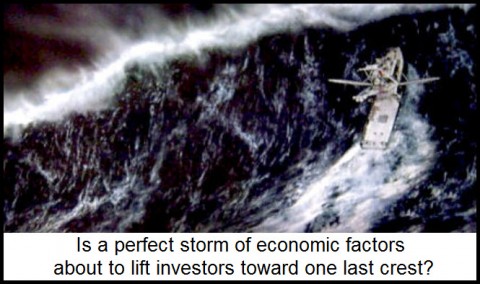 [We recently featured a guest commentary from Gary Leibowitz, a frequent contributor to the Rick's Picks forum. In the essay below, he explains why, despite Europe's financial troubles and signs of a global economic slowdown, a perfect storm of positive factors is likely to produce a final hurrah for stocks. Don't hold onto them for too long, though, says Gary, because 2013 is going to bring disaster for most investors. RA]
Whatever happened to all that money Helicopter Ben printed? Surprisingly not very much. Between late 2008 and the end of 2011, the Fed injected almost $2 trillion in the financial system. Most of it, however, is parked in banks as reserves. At the same time, the Fed announced it would pay interest on those reserves. They paid $2 billion in 2009 alone. Since the Fed created an incentive for banks to hold that cash, 88 percent of it was still being held as of December 31. There goes the theory that we could inflate our way out of this mess! In fact, the Fed has done exactly the opposite, creating a system that pumps banks full of interest-free money while keeping that money from circulating.
Help us spread the ANTIDOTE to corporate propaganda.

Please follow SGT Report on Twitter & help share the message.