by Greg Hunter's USAWatchdog.com: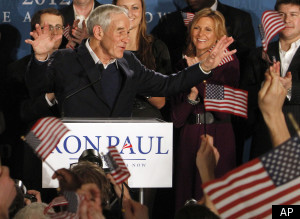 In a new poll, out yesterday, 7 out of 10 Republicans and right leaning independent voters believe Mitt Romney will be the GOP nominee for President. (Click here for that poll.) Does that mean it's over for Congressman Ron Paul? I think it is safe to say it is probably a long shot he will be the Republican nominee, but what about a third party run? Can Ron Paul win as a third party candidate? I say that is much less of a long shot, and here's why.
Let me first say, Dr. Paul has repeatedly said that he has no interest in running as a third party candidate. I do not know (or have talked to) anyone in his campaign. This is my objective analysis and nothing more. Ron Paul as a third party candidate would be much different than the third party candidates of the past. Conservative presidential candidate Ross Perot of the 1992 and 1996 elections predominantly took votes away from the Republican candidates. In 1992, national exit polls had Perot splitting the Republican and Democrat vote equally, but it was not split equally in every state. (Click here for more on this.) A president is voted in by winning each state's Electoral College votes. It's a winner take all game, so every state gives a certain number to the winner of each state. Also, Perot spent millions hammering Bush in the 1992 primaries; so, Perot mostly had a negative effect on the Republicans. The ultra-liberal Ralph Nader's third party campaign in 2000 took votes away from Al Gore, the Democrat. More than 97,000 voted for Nader in Florida alone. Gore would have easily won the election and Florida if Nader would have not run.
Help us spread the ANTIDOTE to corporate propaganda.

Please follow SGT Report on Twitter & help share the message.